Swift Growth of Quality Revenues;
Increasing Business Value & Market Capitalization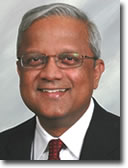 Hello, I am Pradeep Anand, founder of Seeta Resources L.L.C. Since 1994, I have helped many owners and senior business executives, from a variety of industries, in accelerating the growth of their enterprises, thereby quickly increasing the value of their firms.
Apart from reducing costs, the fastest way to increase the value of a business is to swiftly grow quality revenues. To accomplish this, CEOs and Senior Executives of B2B/non-retail firms often need an outside perspective.
I have a thirty-year track record of successes in doing so, across many industries in North America and Europe, from low-tech to high-tech, from Fortune 500 companies to start-ups.
I teach "Marketing in the Energy Industry" at Rice University's Jones Graduate School of Business' MBA program (Spring 2013).
There are five different avenues for increasing revenues: 1. Take Advantage of Market Activity; 2. Improve Pricing Effectiveness; 3. Increase Market Share; 4. Enter New Markets; and 5. Introduce New Products.
To be successful a B2B business has to deploy effectively across all five fronts.
Example:
Pricing Excellence is the most critical skill needed by a business to capture the value it delivers to its customers. Without this expertise, all customer-value creation efforts are a waste. I have some expertise and experience in pricing products and services.
My Pricing Headroom Workshop is a very effective first step in improving the market capitalization and value of a business. This two-day workshop quickly sets seeds to change pricing habits of customer-facing frontlines. It also creates new, repeatable business processes that can consistently deliver better margins and greater sales success rates. These contribute significantly to growth in profitability and market capitalization.
Every one of my successes has been created with an internal client team, whose members become effective change agents within the firm. Changing habits is difficult but can be accomplished quicker with the participation of an internal team, led by the sponsoring senior executive.
I help the client team create and execute all strategies and plans. Through this process, team members gain knowledge and abilities to sustain growth for the short- and long-term.
When needed, I subtly educate the client team. I have been an adjunct Professor of Marketing at University of Houston's MBA program. I stay current with the latest and greatest in this discipline.
I am an engineer and have been a quick study of technology, and technical products and services. This enables me to work across multiple industries.
Most importantly, I have a singular focus on swift growth of quality revenues.
For more information, please contact pradeep at seetadotcom or call +1 281 265 9301.
Articles by Pradeep Anand
Oil & Gas
Outsourcing
India
More Articles
Business Growth/Marketing
Project Management
Speaking Engagements
For more information, please contact seeta at seetadotcom or call +1 281 265 9301.