Accelerate Revenue & Margin Growth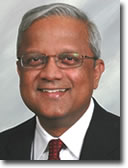 Hello, I am Pradeep Anand.
For over 30 years, I have helped executives at more than 60 industrial and technology companies make critical decisions in competitive and pricing strategies to swiftly accelerate revenue and margin growth.
I enabled this growth with my 3Qs+4Cs+5Gs(SM) process.

3Qs=Three Questions: Where are we? Where can (or should) we go? How do we get there?
4Cs=Four sources that contribute to market dynamics and uncertainty: (Business) Climate, Customers, Competition and (your) Company.
5Gs=Five Gears of Growth.
Click here to see a presentation on What We Do, Results & Case Studies, How We Do It. It includes more details about 3Qs+4Cs+5Gs.
The Rest of the Story
Besides decades of experience, I possess a range of needed knowledge and skills across multiple domains:
Marketing Strategy -- My focus is on how to beat the .... out of the competition to the benefit of my clients. Also, in striking the balance in delivering value to the right customers and in realizing value for stakeholders through effective pricing. Stakeholders include customers, without whom businesses cannot have long term growth.
Engineering & Quantitative Sciences -- I am an engineer with an undergraduate degree from the Indian Institute of Technology, Bombay, India. Technical products and processes don't scare me, though some take longer to learn than others.
Communication -- Effective across multiple cultures, company strata, and languages. I have spoken at a TEDx conference and I teach in the MBA program at Rice University's Jones Graduate School of Business.
Writing -- Author; published many articles in industry magazines and journals; even have a novel (fiction) to my credit.

A few salient features of my service
- Work in High-Tech to No-Tech industries; in Oil & Gas, Engineering, Manufacturing, Software, Technology and Services. A sample of clients is listed below.
- Develop strategy and tactics with the firm's internal team for faster and more effective execution. Members of this team are drawn from a diagonal cross-section of the company.
- The process is stripped off jargon and can be understood by all members of this team.
- Educate and train client personnel in the principles of commercializing products and services. A smarter, market-savvy workforce sustains a firm's competitive edge and profitability for a longer time.
- Deliver swift results and fast outcomes within days of engagement, rather than months or years.
Additionally
I speak often at conferences, at companies, and start-up accelerators. I conduct workshops. My topics revolve around "Go-to-Market Strategies", "Improving Pricing Effectiveness", and "Accelerating Revenue & Margin Growth".
I teach "Marketing in the Energy Industry" in the MBA program at the Jones Graduate School of Business, Rice University, Houston, Texas.
I mentor start-ups in the Greater Houston area.
Here is a hint -- 3Gs+4Cs+5Cs is "OODA for Businesses".
Sample List of Clients
Oil & Gas — AirXChangers, Baker Hughes, Baroid Corporation, Daniel Industries, Dresser Industries, Dresser Oil Tools, Key Energy, Integrated Exploration Systems (Germany), Landmark Graphics, Metal Networks, NL Industries, Numar, OFS Portal, Petrabytes, Photon, PGS-Tigress, Praxis, Preng & Associates, Sperry-Sun Drilling Services, Object Reservoir (US Venture Partners), Volumetrix
Engineering/Manufacturing — Aggreko, Astralloy, CompX, Continental Carbon, Excell Minerals, Express Integrated Technologies, Fabsco, Fort Lock, Gundle/SLT Environmental, Harsco Corporation, Harsco Industrial, Harsco Infrastructure, Harsco Metals & Minerals, Harsco Track Technologies, Hendrickson Trailer, IKG Industries, MultiServ, National Cabinet Lock, Nutter Engineering, OnePoint, Patent Construction Systems, Patterson-Kelley, Reed Minerals, SGB, SteelPhalt, VisionMonitor Aviation Software, Waterloo Furniture Components
Technology — AMD, Sun Microsystems, Syntel, Metasolv, NobleTek, Avalon Imaging, Scicom, Silicus, Laversab, Facet, Zresearch
Other — Kanaly Trust; Fort Bend Independent School District; American Sleep; Willy, Nanayakkara, Rivera & Goins

Please contact me at ram at seeta dot com.
Click here to see a presentation on What We Do, Results & Case Studies, & How We Do It!
Sample Articles by Pradeep Anand
Oil & Gas
India
Career Development
Outsourcing
Business Growth/Marketing
Protecting Revenue & Margins in Declining Markets with Effective Pricing Processes and Programs - November 2014
Pricing Effectiveness: The Fastest Way to Grow your Revenue, Profit and Market Cap - Oil & Gas Financial Journal, November 2014
Seven First "Go-to-Market" Steps for Entrepreneurs - Presentation - Surge Accelerator, February 2015
Pricing for Entrepreneurs - Presentation - Surge Accelerator, Houston, Texas, February 2015
The Competitive Imperative for Improving Productivity: Productivity Improvement Workshop, January 2014
India: Yesterday, Today, Tomorrow: Jones Graduate School of Business, Rice University, November 2013
How to Pitch to Investors Your Go-to-Market Strategy - Presentation - TiE- Houston & Houston Technology Center, September 2013
Five First Steps to Successfully Commercialize New Technology - Presentation - MEST Conference, September 2013
Marketing in the Oilfield Conference - Presentation - Gulf Publishing, Houston, Texas, September 2013
Seven First Steps to Swift Business Growth - Presentation - Bauer College of Business, University of Houston, February 2013
Organizing Effective Business Events - Article, September 2011
Maximizing Pricing Effectiveness- Oil & Gas Financial Journal, June 2011
Seven First Steps to Swift Business Growth - Presentation - Houston CPA Society Accounting Expo, May 2011
Notes: 50 Persuasion Secrets - March 2008
Read more Business Growth articles…
Speaking Engagements
Click here for Pradeep Anand's Speaker Bio
For more information, please contact ram at seeta dot com