Swift Growth of Quality Revenues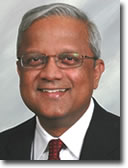 Hello, I am Pradeep Anand. I work with Business Leaders to accelerate their firms' revenue and margin growth.
I help business leaders (and their teams) unravel their companies' market forces in meaningful ways, which when combined with their current and potential competitive positions/capabilities and corporate objectives, provides them with the framework for an edgy strategic direction, which I then help hammer into execution excellence in five key areas—taking advantage of market drivers, pricing effectiveness, increasing market share, new markets, and new products.
I am known to bring things into focus, very quickly.
I have a >30 Year Track Record of successes in various industries, from High-Tech to No-Tech—Oilfield, Engineering, Manufacturing, Software, Technology and Services.
I also educate & train people to create a smarter, market-savvy workforce who can sustain a firm's competitive edge and profitability for the longer term.
I teach "Marketing in the Energy Industry" in the MBA program at the Jones Graduate School of Business, Rice University.
I speak often at conferences and conduct workshops on "Go-to-Market Strategies", "Improving Pricing Effectiveness" and "Accelerating Revenue & Margin Growth".
Clients:
Oil & Gas — AirXChangers, Baker Hughes, Baroid Corporation, Daniel Industries, Dresser Industries, Dresser Oil Tools, Key Energy, Integrated Exploration Systems (Germany), Landmark Graphics, NL Industries, Numar, OFS Portal, Photon, PGS-Tigress, Praxis, Preng & Associates, Sperry-Sun, Object Reservoir (US Venture Partners), Volumetrix
Engineering/Manufacturing — Aggreko, Astralloy, CompX, Continental Carbon, Excell Minerals, Express Integrated Technologies, Fabsco, Fort Lock, Gundle/SLT Environmental, Harsco Corporation, Harsco Industrial, Harsco Infrastructure, Harsco Metals & Minerals, Harsco Track Technologies, Hendrickson Trailer, IKG Industries, MultiServ, National Cabinet Lock, Nutter Engineering, OnePoint, Patent Construction Systems, Patterson-Kelley, Reed Minerals, SGB, SteelPhalt, VisionMonitor Aviation Software, Waterloo Furniture Components
Technology — AMD, Sun Microsystems, Syntel, Metasolv, NobleTek, Avalon Imaging, Scicom, Silicus, Laversab, Facet, Zresearch
Other — Kanaly Trust; Fort Bend Independent School District; American Sleep; Willy, Nanayakkara, Rivera & Goins

If you want to create a reputation/legacy for accelerating the growth of your business, please contact me at pradeep at seeta dot com or call me at +1 281 265 9301.
Sample Articles by Pradeep Anand
Oil & Gas
Outsourcing
India
More Articles
Business Growth/Marketing
Project Management
Speaking Engagements
For more information, please contact seeta at seeta dot com