Swift Growth of Quality Revenues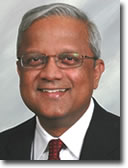 Hello, I am Pradeep Anand.
I work with Business Leaders, who want to fix business units whose performances do not meet their expectations. I help these leaders accelerate these firms' revenue and margin growth.
I have a >30 Year Track Record of successes in various industries, from High-Tech to No-Tech, in the Oil & Gas, Engineering, Manufacturing, Software, Technology and Services Industries. Some clients are listed below.
Click here to see a presentation on What We Do, Results & Case Studies, How We Do It!
Here are a few salient features of my service:
- Focus on execution, with a twist -- Take aim before we shoot!
- Bring issues into focus, very quickly, by answering three simple questions: Where are we? Where can/should we go? How do we get there?
- Develop strategy and tactics with the firm's internal team for faster and more effective execution. Members of this team are drawn from a diagonal cross-section of the company.
- The process is stripped off management jargon and can be understood by all members of the team.
- Educate and train client personnel in the principles of commercializing products and services. A smarter, market-savvy workforce sustains a firm's competitive edge and profitability for a longer time.
- Deliver swift results and fast outcomes with days of engagement, rather than months or years.
Additionally:
I teach "Marketing in the Energy Industry" in the MBA program at the Jones Graduate School of Business, Rice University.
I mentor start-ups in the Greater Houston area.
I speak often at conferences and conduct workshops. My topics revolve around "Go-to-Market Strategies", "Improving Pricing Effectiveness", and "Accelerating Revenue & Margin Growth".
Clients:
Oil & Gas — AirXChangers, Baker Hughes, Baroid Corporation, Daniel Industries, Dresser Industries, Dresser Oil Tools, Key Energy, Integrated Exploration Systems (Germany), Landmark Graphics, NL Industries, Numar, OFS Portal, Photon, PGS-Tigress, Praxis, Preng & Associates, Sperry-Sun, Object Reservoir (US Venture Partners), Volumetrix
Engineering/Manufacturing — Aggreko, Astralloy, CompX, Continental Carbon, Excell Minerals, Express Integrated Technologies, Fabsco, Fort Lock, Gundle/SLT Environmental, Harsco Corporation, Harsco Industrial, Harsco Infrastructure, Harsco Metals & Minerals, Harsco Track Technologies, Hendrickson Trailer, IKG Industries, MultiServ, National Cabinet Lock, Nutter Engineering, OnePoint, Patent Construction Systems, Patterson-Kelley, Reed Minerals, SGB, SteelPhalt, VisionMonitor Aviation Software, Waterloo Furniture Components
Technology — AMD, Sun Microsystems, Syntel, Metasolv, NobleTek, Avalon Imaging, Scicom, Silicus, Laversab, Facet, Zresearch
Other — Kanaly Trust; Fort Bend Independent School District; American Sleep; Willy, Nanayakkara, Rivera & Goins

If you have an under-performing business unit that needs help, please contact me at pradeep at seeta dot com.
Sample Articles by Pradeep Anand
Oil & Gas
India
Career Development
Outsourcing
For more information, please contact ram at seeta dot com